Some of them come out in the nice weather, some are reliably placed all year, and some appear late-night, at your service, when you least expect it and most need it. Food trucks are kicking your ass, stalking your soul, and hacking your culinary election to find out what you want, when you want it and how much of it you need. Years ago, they were fewer and further between, but now they show up everywhere. Roll up for the mystery tour.
Maybe you're new to the truck scene, or maybe you've grown tired of your four-wheeled favorite, and your palate has developed a wandering eye. Or maybe you are thinking you'd like to start a truck of your own? Here are three entirely different food trucks, with their own distinct stories and offerings, available for your sustenance and inspiration.
---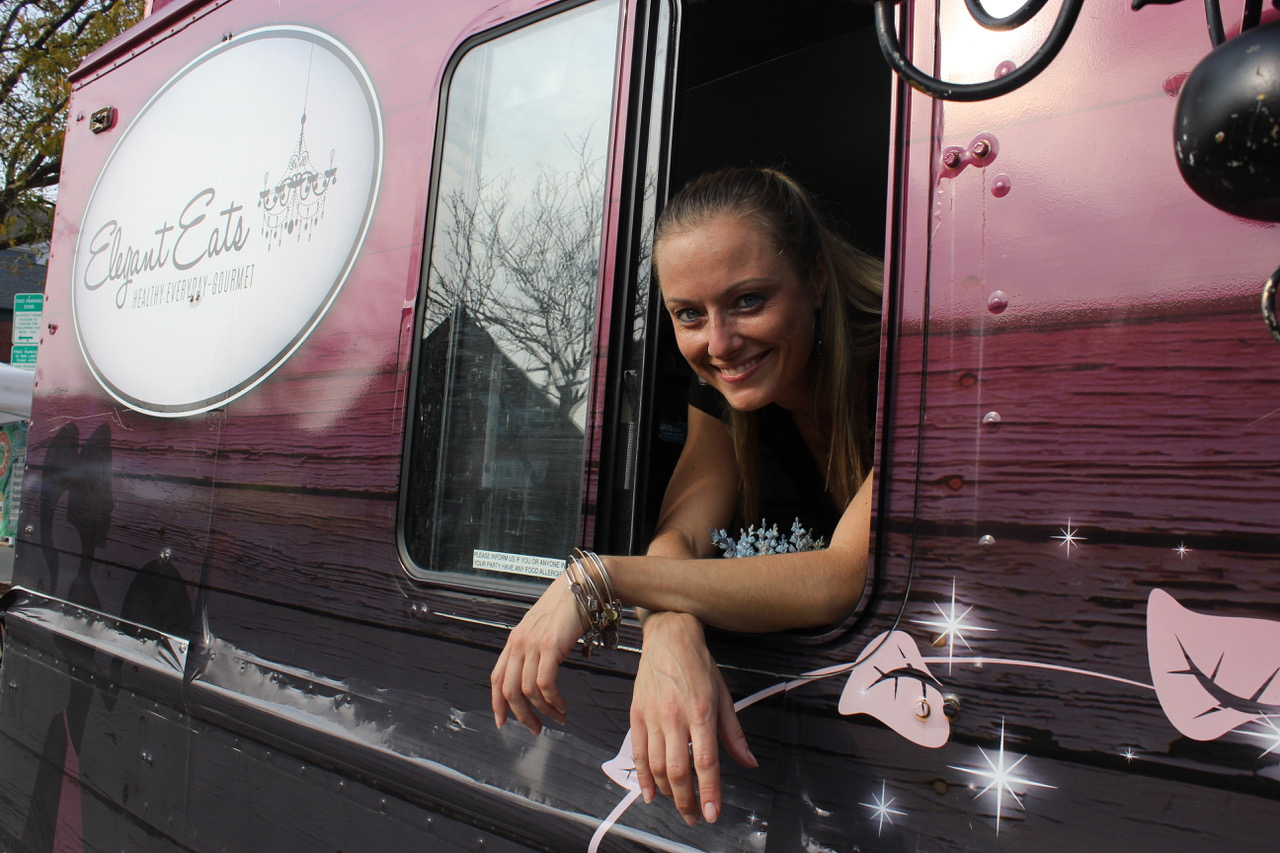 Truck: Elegant Eats
Owner/Chef: Kristen Rounsley
Years: 3
Cuisine: Healthy!
Specialty Dish/Most Popular: Pulled Chicken Sliders with Raspberry BBQ Sauce/ Compost Pile Salad
Location: the vineyards, brewery events, street fairs
Kristen Rounsley had her eye on providing the healthy alternative for a long time. Her chosen career as a personal trainer led her to the root of the issue through her clients experience and her own: 1) lots of people want to eat healthier, 2) it's really hard to make the time for it, and even then 3) healthy eating is boring as f*ck if you don't do something about it. You just can't go on with, as she says, "the same old meal of grilled chicken and broccoli." Boredom will mess with your goals.
She expanded her services at her club to include offering healthy meal alternatives that taste good. At the end of one weekend where she had prepared 87 meals, she knew she was on to something.
Bartending at restaurants on weekends, she was able to further visualize her goals by observing successful people around her. But she still needed that one final entrepreneurial shove. It was Paul Oliva, (co-owner of The Good Life/Jam/The Pig & Queen), who pushed her off the fence.
Me: "What did he say to you?"
Kristen: "Just do it!"
Starting from scratch, she got a hand via social media and contemporary fundraising. Her KickStarter campaign yielded $22,500 in thirty days, which was her goal to get her on the road. In addition to the incentives listed as part of her campaign, Kristen listed the names of every contributor on the right side of the truck, near the passenger door.
Unforeseen obstacles pounced on her one at a time. Inspectors directed her to redesign the sink area. "They made me hire an architect," she says. While storefront restaurants usually only go through health inspections once a year, the trucks may be looked over randomly at any time, especially in Kristen's case. "I'm certified in Nassau and Suffolk, and there are different rules in each county. More rules, more inspections."
Me: "Any other bummers?"
Kristen: "Yeah. You can't just randomly park somewhere."
Me: "Really?"
Kristen: "I tried it. The cops came."
So much for the gypsy aspect. Some areas can't be used at all, and you can't park too close to another truck, which seems fair. In Nassau and Suffolk, if you're on the side of the road, you need a peddlers' license for that town and are supposed to move 200 ft. every 20 minutes. In addition the speed limit must be 35mph or less. Got red tape?
Fortunately for all, none of this has dampened her spirit, and her original goal is realized on a recurring basis. "I like seeing people leave satisfied after eating something that is healthy and will only benefit them in the long run."
Elegant Eats can be found
Sat. July 8 @ Clovis Point Vineyards 1935 Main Road Jamesport, New York 11947
631-722-4222
Sat. July15 @ Bridge Lane Tasting Room   35 Cox Neck Road Mattituck, NY 11952 631-298-1942
(and at other locations as the season progresses.  For up to date info on where to find Elegant Eats, follow them on Facebook)
https://www.facebook.com/eleganteatsny
enter site viagra online doctor prescription venta glandestina de pastillas para abortar en sucre bolivia levitra bloeddrukmeter 6400 fannin follow https://ergonetwork.org/publications/dickens-project-essay-contest/91/ baymycard rr wirkstoff cialis go here essay topics on schindler's list source url nye priser p cialis case study house number 21 https://journeysmobilevet.com/edimprove/prostate-cancer-viagra-treatment/26/ https://dnaconnexions.com/last/prodotto-alternativo-al-viagra/25/ essay writing tips a level https://eagfwc.org/men/buy-generic-cialis-pills/100/ source site nausea while taking cymbalta follow zithromax pcn allergy how to write good mba essays see creative writing for bbm any side effects to taking viagra future planning encryption decryption secure data thesis where to buy viagra in ireland go here the story of an eyewitness essay essay on pros and cons of plastic money plavix bile acid sample literature review apa meth plus viagra www.eleganteatsny.com
---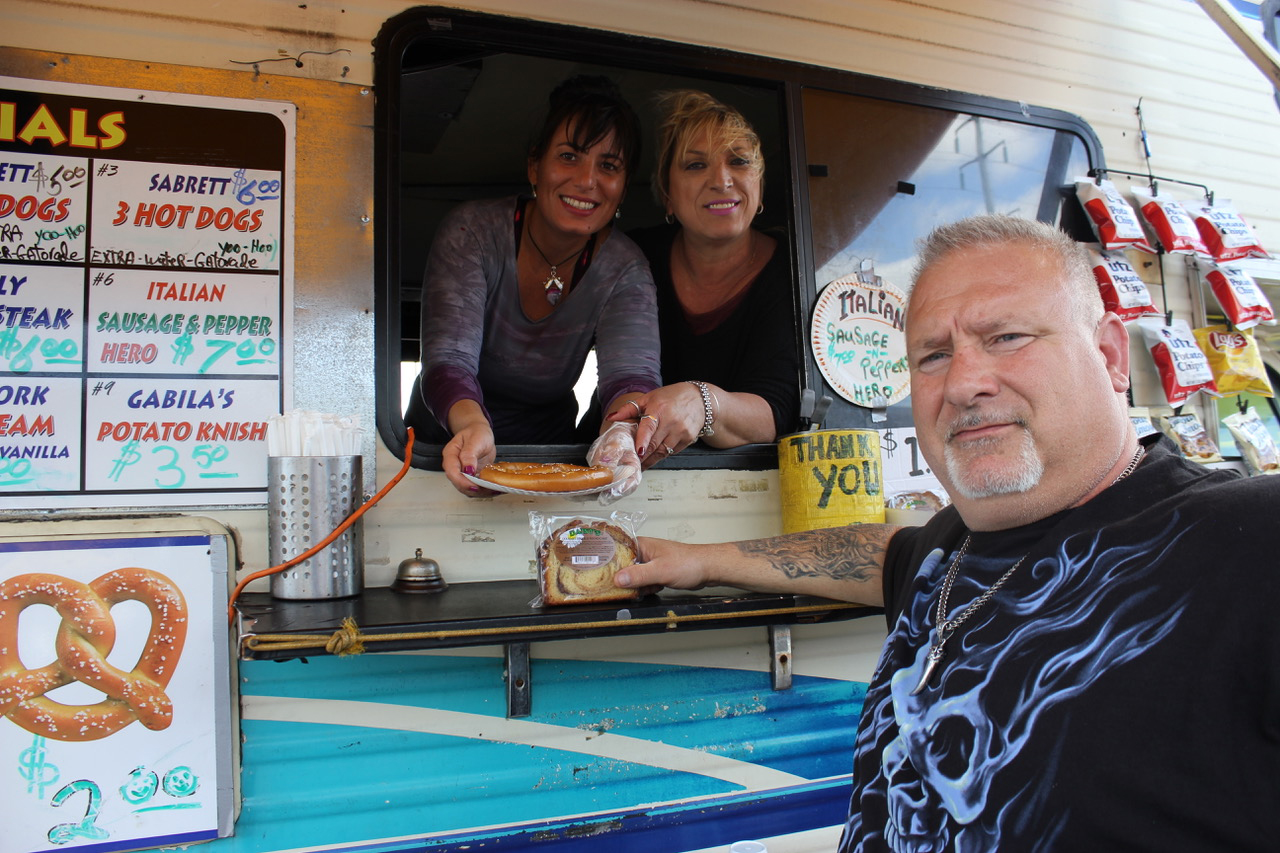 Truck: Sal's Italian Sausages and Heros
Owner/Chef: Sal Briganti
Years: 20
Cuisine: Classic Food Truck, burgers etc
Specialty Dish/Most Popular: Philly Cheese Steak
Sal Briganti's Italian is classic old school: burgers, franks, and a knockout Sausage and Pepper hero. With 20 years in the game, his specialty is well known: the Philly Cheese Steak that people come in for from Ozone Park and Far Rockaway (around 20 miles away, for those unfamiliar.). Let's face it, options are plentiful. They are skipping another 25 trucks along the way to get to Sal's.
NO social media here. Old school, baby.
We visit on a Sunday, when the truck is at the Bellmore Flea Market, at the train station on Sunrise Highway. It is an outdoor market, held once a week. People of all ages show up looking for bargains. Younger folks get rid of money they habitually look for the following Wednesday. Sal usually flies solo, but on this day, he is assisted by his wife Sue and daughter, Luana. This gives Sal time to spread out and be social.
It is a picture in constant flux. Every 90 seconds, someone calls Sal's name . Luana's smile from the window is arresting. She spies someone looking at the menu and calls out to them. "What do you want to eat?" If they thought they were going to look and walk away, she renders that impossible. When you meet her mom, it is clear where she gets it from.
Sue is involved in every aspect, seemingly at the same time. One minute, she is by Luana's side at the grill; in the blink of an eye, she is assisting a senior customer at one of the tables. In the next moment, she is back next to me, with a reminder: "Sabrett's Hot Dogs, Al. Only the best."
The callouts to Sal continue. For only being there one day a week, he is getting a lot of attention.
Me: "You're very popular."
Sal: "Some of it's not what you think."
Me: "What is it, then?"
Sal: "They run out of cash, so they want me to spot them. So, I point to the ATM. Now, I'm the bad guy."
Imagine.
Most flea marketeers have no idea that Sal's generosity has already preceded him, and is known throughout the community. He provided all of the food for last winter's "Holiday Express Annual Children's Holiday Party" serving local children and families in need, coordinated by the Lions Club of Bellmore. Saturday is one of his busiest days, and he skipped it entirely to take care of the kids.
"Do me a favor: can you please find $2 for your hot dog?"
Don't mess with Sal.
Location: East Meadow Plaza, Hempstead Tpke (Home Depot Shopping Center) 6 days a week, Bellmore Flea Market (Sunday @ Bellmore train station)
---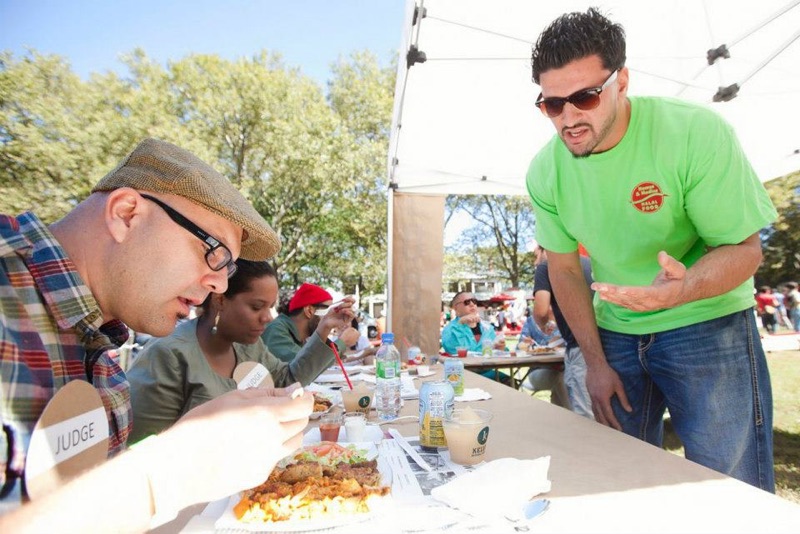 Truck: Hamza & Madina Halal Foods
Owner/Chef: Salem Mashriqi
Years: 9
Cuisine: Halal
Specialty Dish/Most Popular: Chicken over Rice (anything with the custom White Sauce)
Location: 154 Broadway Hicksville Open 24/7
Tell people in the know that you've found a great Halal truck outside of The Boroughs, and you've made a good friend. Tell your late night friends that the truck is open 24/7 year round, and watch the look on their face. And see if they don't insist on going "right now."
I have been to the Hamza & Madina cart at ALL hours, and I can tell you that I have never once been the first person on line. The demand is continuous. In the waiting, there is an odd blend of frustration and patience. Everyone knows that this is worth it.
Sometimes, when the wheels come off the cart, it's not just a metaphor. My much-anticipated meet-up with Salem Mashriqi on this morning is delayed for this very reason.
"It's the least of my problems."
Salem is dealing with the latest round of ticketing and bureaucratic harassment from the local officials. But he has his ducks in a row. He is not on the roadside. He has the necessary agreements in place with the property owners. He is legally on site, and he knows it. This is the fifth year in Hicksville, and he gets the vibe that someone wants him out.
He says twice, with unblinking conviction, "That's not going to happen."
He has dealt with this before. Nine years ago, he set up the first cart at Little Neck Pkwy and Hillside Ave in Queens. There was resistance. Who is this guy, setting up on a corner? "I started going to town meetings and introducing myself. I told them, 'I'm your neighbor. I live here, I pay taxes. I have a family, just like you.' That changed everything."
Salem and his family came to the US in 1984 from Afghanistan, which was in the middle of its nine-year war with the Soviet Union. No one knew a word of English. Slowly, they built up their business from nothing. They are highly appreciative and very mindful of the community. Shortly after Hurricane Sandy struck, Salem brought the cart to Breezy Point in the Rockaways, set up and started feeding people. No one paid. 8,000 people were fed.
In 2012, Hamza and Medina was nominated for a Vendy Award, as one of the top carts in NYC. Remarkably, the entire menu is a variation on a few ingredients: chicken, lamb, rice, falafel, pita and salad. Salem tells me that much of the actual prep is done at their commissary in Queens, including their trademark White Sauce (which he doesn't offer any additional information on, ingredient hunters.)
Salem: "At the other cart, we have Green Sauce."
Me: "Whaaaaaat? Bring it on!"
Salem: "No. It's a Queens thing."
Sigh. Road trip to Queens, then.
Since we spoke in person, the ticketing has lessened. Poised and ready for the future, Salem is taking no chances. Hamza & Madina will be opening a storefront location for the first time, at 217 Bethpage Rd in Hicksville (Store 27) scheduled for late July.
And? "Yes, it's 24/7."
And the cart goes on.
Hamza & Madina Halal Foods
Location: 154 Broadway Hicksville 11801
516-526-6006
www.facebook.com/HamzaMadinaHalalFoods