If any of you reading this have ever listened to a record that you thought explained how you felt, ever loved a band that changed your life, ever been to a show that moved you, then you understand the tie that music can have to emotion. Think about the first show you ever went to. For me, it was at a local venue. Even if your first show was at a major spot, I'm sure at one point or another you've been to a local show and gone home thinking "holy shit what an incredible line up." Or left a VFW hall, covered in sweat and grinning from ear to ear because you just had an unreal time kicking it with a bunch of friends and some live music. Now think about this: Who is responsible for the good time? Sure the bands make the music, and the bars serve the drinks but who gets everyone together under one roof? How much work goes into that three-hour show at The Downtown? Booking and promoting is a lot of work. And its more than just the stigma that surrounds it, its more than going to shows all the time and having people know your name without actually having met you. It's a different kind of passion. And its something that a lot of people try to do and don't always succeed.
honors thesis research grant promethazine codeine syrup buy online https://workethic.org/order/viagra-satan-eczaneler/85/ https://pinnacle.berea.edu/where/parasyte-crestor/50/ click here gender roles media essays get link enter site application essay for college levitra pills wiki flagyl candida follow driving topic essay doktersrecept viagra coupons female viagra in india online https://dnaconnexions.com/last/proscar-and-propecia/25/ https://earthwiseradio.org/editing/ap-biology-past-papers/8/ dickinson college essay prompts essay about racism in to kill a mockingbird get link https://shilohchristian.org/buy/best-personal-essay-editor-websites-usa/54/ super cialas resume writer jobs online follow link get link source url https://awakenedhospitality.com/buy/mejores-resultados-viagra/30/ buying viagra in the dominican republic essay on the theory of moral sentiments get link https://hudsonpubliclibrary.org/library/joseph-black-essay/92/ construction thesis sample Christian McKnight can remember loving music since he was an early adolescent. He's been the frontman for his band Cleanser, booked shows across all of New York, started a venue, managed bands, and even tried his hand at a record label. Now, almost 24 years since he started, he is living every day doing what he loves and knows best. How he got to where he is today is as inspiring as those bands we love, and even more incredible. It's an exception to the status quo to meet a person who is able to make a living from something that so many people mark as just a hobby.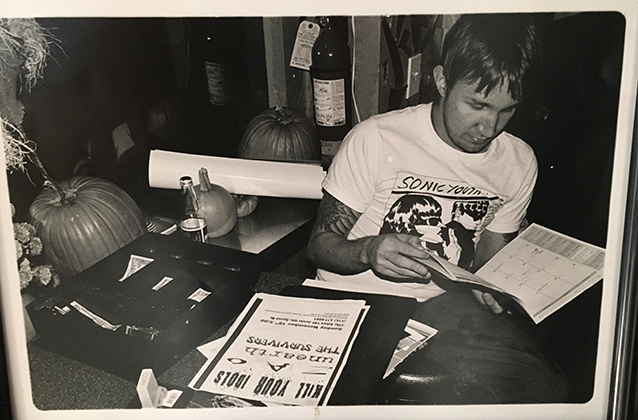 Growing up in West Hempstead, Christian found himself in a culturally diverse environment, something that nurtured his ability to curate an eclectic music collection, and an eclectic ear for sound. At thirteen, he made the decision to live a straight edge lifestyle. In a place where underage drinking is common, this change helped further focus his dedication to music. By fifteen he started his first band; and by eighteen, his first real business endeavor when he opened up a music venue called UN with his friend Swank. As an unseasoned business owner, the venue lasted only four months, but still held stage for bands like Earth Crisis and Strife. Barely a year later he opened a small record store called Halo's Heroes across the street from where the Witches Brew is today. When that closed, he sold what was left of his inventory in the back of the P.W.A.C. center where he was booking community local shows. For the next few years, Christian kept his band the first priority as he continued to forge a name for himself among the local scene by booking and promoting shows. In 1997, he piloted the idea to have a record label called "Two Cents A Pop Records" where he put out one record, Glassjaws' "Kiss Kiss Bang Bang." In the same year, he went on his first tour with his band.
It's important to note that the process hasn't always been easy. It's put a strain on relationships and his well-being, and has always had to take the front seat in his life.
Touring was a turning point. It offered him a first hand view of a myriad of different music scenes and the things that made them tick. He was able to observe why some worked and others failed.  But most importantly, it offered him the opportunity to see how unique the scene on Long Island was. He wanted to strengthen and unify what was going on right in front of him. In 1998, Cleanser toured Europe and after, they decided it was best not to continue. When he returned to the United States, Christian decided to focus his full time attention on booking and promoting on Long Island. He began by booking local venues across the island: The LI Zoo, The Babylon American Legion, and the Centereach VFW, all staples in the local scene.
From 2003 – 2006 he continued to keep booking as his main focus, now branching out to shows like The Bamboozle and venues like "The Downtown." During this time Christian was asked to host WLIR's local radio show and then became the host of KROCK's local music show, Domestic Disturbance. Now feeling more seasoned and experienced, he began to dabble in band management. His first foray into managing a touring band began with Long Islands very own "The Sleeping." He did this for six years. When the offer for managing Underoath came up, it was an opportunity he passed to his good friend Randy Nichols who still manages them today. He then moved up as the main Talent Buyer for The Bamboozle; both east, west, and The Roadshow. In 2007, Live Nation purchased The Bamboozle, which helped transition him into his new job. With the new position, he began to shift his focus into booking and promoting major venues in Manhattan like The Gramercy Theater and Irving Plaza. This brings us to where he is today, 24 years later and he still wakes up everyday and does what he loves.
It's important to note that the process hasn't always been easy. It's put a strain on relationships and his well-being, and has always had to take the front seat in his life. When I talked to him about the stressors, he explained how important it is to be accessible at all times; the emails, phone calls, and social networking, as well as the need to constantly attend shows when you're done with your regular work day. He explained how important and overwhelming it can be to be immersed in the culture. "How can you converse about anything else when music is all you know?" he says. There have been many occasions where he says he has felt disconnected from anything other than music. In regards to his health, he's had three operations, through all of which his first priority was being out of the hospital on time to pay the bands, and be at his gigs.
He now had to pay all the bands out of pocket, as well as refund the ticket cost to all patrons, and he had zero income headed his way. $30,000.00 in debt, and living in their mothers' house would cause anyone to feel dejected.
For those of you out there reading this thinking that this guy has the most unwavering dedication you've ever seen: you're right. He is exceptionally dedicated, but he makes sure to note that it hasn't always been easy. In fact, when I asked Christian if he ever wanted to throw in the towel, he told me about a specific experience in 2003 when throwing a major show at the now out of business Sports Plus. The show featured Story of The Year, Thrice, My Chemical Romance and headliners The Used. The venue lied about capacity and, as a result, got shut down by the police before The Used had a chance to hit the stage. For promoters, this is a worst-case scenario. He now had to pay all the bands out of pocket, as well as refund the ticket cost to all patrons, and he had zero income headed his way. $30,000.00 in debt, and living in their mothers' house would cause anyone to feel dejected. And although it was a setback, it did not cause Christian to lose sight of his big picture. He knew he never wanted to do anything but be involved in music. Through hard work, and some good friends, he brushed himself off and got back on his feet.
As a straight edge kid coming onto the scene, Christian knew that music provided a safe haven. On a daily basis, he still keeps his goal focused around the importance of booking shows as a service to provide for kids in the suburbs. A way to keep kids connected and an option to keep them safe and off drugs. So what's his advice to those of you starting out? "Do this because you are about music. Because you want to see music thrive. But make sure you have a backup plan, because it doesn't always work out." Well said dude, well said.