http://maientertainmentlaw.com/?search=20mg-levitra (Note: This is our feature 24/7 article. For our complete resource page, please click here. If we missed something, let us know in the comments below. Thanks!)
acquistare levitra generico
It's A Million O'Clock In The Morning. Now What? Take a walk with us through Late Night Long Island. We're going to eat, drink, play, swim, play basketball, hit the beach…and we're going to meet John Gatto of The Good Rats!
Good morning, and I don't mean the one accompanied by daylight. You are either still awake, or suddenly awake, and right now there is nothing you can do about it. Been there.
I am hungry.
I am bored.
I want some activity.
 I need help. For real.
The good news, Long Island, is that your immediate surrounding world is not asleep. There's something going on nearby to you, twenty-four hours a day, seven days a week.
The not great news is that, like all things that cycle, 24/7 life is in something of a downturn. Overnight supermarkets are limited to a few. Twenty-four hour diners are a bit scarcer, though they haven't disappeared.
Anything that you can find on a smartphone has been excluded: 7-Eleven, etc. Dialing 911 will put you in touch with emergency services, and get you to a hospital if need be.
We have fun stuff and serious stuff.
We'll do serious stuff first.
purchase viagra 1. I'm desperate. I need to talk.
This is the most important part of our article.
Long Island Crisis Center
2740 Martin Avenue
Bellmore, NY 11710
516-679-1111 (24/7 Crisis Hotline)
"If you are in crisis or feeling suicidal, know that you are not alone. Talk to a counselor now."
http://longislandcrisiscenter.org/get-help-now/
This link will connect you to crisis assistance via text from 3 to 11PM.
The Safe Center LI
15 Grumman Road W., Suite 1000
Bethpage, NY 11714
516-542-0404 (24/7 Hotline)
"Children, women, men and elderly victims of sexual assault and emotional, psychological and severe physical abuse are those we serve. We make no distinction between race, creed, color, gender, income bracket, sexuality or age."
http://cinziamazzamakeup.com/?x=comprare-vardenafil-online-sicuro-Lazio 2. My Pet Needs Immediate Medical Care.
see  We are very pleased to present all of this information in one place for the first time.
Veterinary Medical Center of Long Island
75 Sunrise Hwy
West Islip, NY 11795-2033
631-587-0800
http://www.vmcli.com
West Hills Animal Hospital & Emergency Center
800 West Jericho Tpke
Huntington, NY 11743
631-351-6116
http://www.whahzoo.com
New York Veterinary Specialty & Emergency Center
2233 Broadhollow Road (Rt 110)
Farmingdale, Long Island, NY 11735
631-694-3400
http://www.nyvsc.com
Okay, on to some fun stuff:
click here 3.  enter site I Need To Play Basketball. Indoors. Following That, I Want To Jump In The Pool.
You got it! But, you're going to have to swim in lanes. We hope that's not a buzz kill. The facilities at XSport Fitness are basically for working out. But they are open. Right now (membership required.)
Two L.I. locations:
630 Old Country Road
Garden City, NY 11530
516-294-1003
1 Sunrise Mall
Massapequa, NY 11758
516-795-5100
There are other 24/7 gyms available on our master list.
http://maientertainmentlaw.com/?search=pfizer-sildenafil-canadian-drugstore 4.  get cialis I Need To Make A Remote Control Sandwich
Not only has the future arrived, it's been checking its' watch and texting its' friends, wondering when you're going to show up.
Check this out: punch in your order on this screen, and a human being will be summoned to fulfill your customized request. 24 hours a day, seven days a week.
http://cinziamazzamakeup.com/?x=comprare-viagra-online-sicuro  
best priceest brand propecia sale uk  
QuickChek
2686 Middle Country Rd
Lake Grove, NY, 11755
631-737-1484
150 Hicksville Rd
Bethpage, NY 11714
516-796-2808
QuickChek is a massive facility that will make you think you've just pulled into a rest stop on a long stretch of interstate. There is gas, food, and a remarkable craft beer selection.
There are 140 QuickChek stores in New York and New Jersey, and only one on Long Island. Word on the street is that every time 7-Eleven gets wind of them buying a new spot, they buy it themselves. Stop in yourself and find out what Sevs is so concerned about.
source link 5.  I Need To Go To The Beach RIGHT NOW. Legally!!!
Sure, take the fun out of it.
Here you go: The Shelter Island beaches are open 24 hours.
First, you have to get there.
Crescent Beach, Wades Beach, Menhadden Lane, Fresh Pond, and Shell Beach.
More info: 631-749-0291
6. My Deli Won't Make Breakfast Sandwiches after 12PM. Help!
Noon?!!! Hahahahaaaa! We laugh continuously, breaking only to inhale. Your deli, too precious to live, likes to clean its' slicer by 2:30 in the afternoon, then flips out if you come in and order anything that needs to be cut. Nice way to run a business.
The fabulous Cherry Valley Deli in West Hempstead will not only hook you up, they provide over 200 different menu items all night long. Famous, for a reason.
Cherry Valley Deli
168 Hempstead Turnpike
West Hempstead, NY 11552
516-292-3381
Just a mile down the street is the no less famous A&S Bagels, not only open all night, but making lots of product at all hours. As you walk up to buy, you can smell that fresh smell coming at you in the hours where the streetlights are ready to give in and the light blue sky is taking over. Bring it on!
A&S Bagels, Inc.
761 Hempstead Turnpike
Franklin Square, NY 11010
516-326-9288
I went looking for the ever-evasive pre-dawn egg sausage and cheese the other night, only to find out that my local 24/7 had abandoned their deli section. So painful! Not to be deterred, I hit up Stop n Shop Deli (yes, that's the name, they haven't been sued out of it.) As soon as I started to look and the board, a guy popped up and said, "Hey, you want breakfast?" Not only was I accommodated, I was welcomed. Try beating that. Great sandwich, though I skipped the coffee at 4:15AM.
Stop n Shop Deli/Smoke shop
1000 Jerusalem Ave
N Merrick, NY 11566
516-679-3999
Thanks! Got anything else fresh late night that I should know about?
Food cart! We found your after hours, out on the street Halal fix. As you negotiate through the sleeping businesses on 107 in Hicksville, whose sprinklers are always on even if it has just rained, you will come to the new All Star of the late night game. Hamza and Madina brings it fresh, 24/7. We ordered Falafel, wanting to see what they would do with the most basic part of the menu. Proving their craft, the pita was the outstanding aspect, fresh and warm, falafel crisp and tasty, and the white sauce on point. P.S. They are super friendly. This place is a must.
Hamza and Madina Halal Foods
154 Broadway
Hicksville, NY 11801
516-526-6006
and
217 Bethpage Rd
Hicksville NY 11801 Store #27
and
100 Crooked Hill Rd
Commack NY 11725
You can find every all-night restaurant, diner, bagel store, etc. on our main resource page.
7. I'm Low On Gas, And My Smartphone Found A Station. How Do I Even Know If It's Open?
 That's an excellent point. Your wonderful phone is capable of discovering your destination, but can't necessarily tell you much else. And being stranded in the middle of the night is an unacceptable option.
We offer three solutions:
A reliable 20th century tradition: call them. Use those digits next to the address. You don't have to be Magellan at every step. Get help!
Over 50 stations are listed on our main page. It's a constant work in progress, but it gives you quite a few options for gas and other stuff you may be looking for at this hour. You're welcome, of course.
The best online resource I found on this topic: HoursOf.com.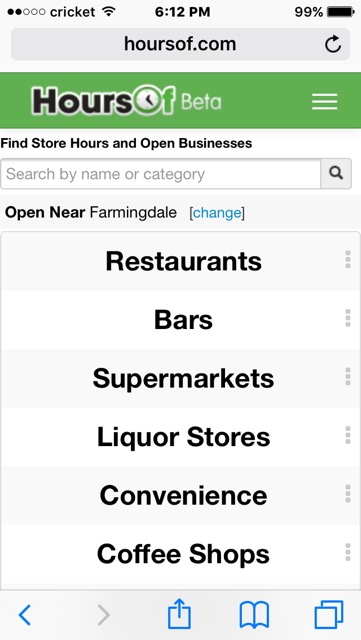 Let it detect your location, hit one of their categories, then (important) give it time to grind. BAM. The nearest gas (or food or other), presented in order of proximity. Pro tip: on your phone, if you use the search box for a more specific result, don't tap the hourglass; hit "return" on your keyboard to "enter".
Please do yourself a favor and save this site to your home screen for easy access any time.
8. Granted, It's 3A.M., but I Want To Shoot A Gun. Now. Don't Judge!
What?
Okay! Freeport NY Revolver & Rifle Association, Inc. is a members only organization that offers 24/7 access to its' indoor range. So, you can't just show up at post-late hours and go at it, but you can join their group and have access. For some reason, I'm wishing they have a breathalyzer.
9. I Have To Sit In My Old Chair. And Look At Stuff I Have From My Ex. Also, My Vinyl Of Rush "2112".
Dude, your records are in storage? How do you live with that? Okay, okay, I don't know your situation. But stay away from letters from your ex, especially at this hour. In fact, buy a shredder. If you're going to have "All Night Face" at work or school the next day, make it for a good reason.
Back to your stuff…storage is a huge business, but only a few facilities offer all-hours access. "A Space Place Storage" has two L.I locations, climate controlled and 24/7. Miss your stuff? Go visit!
2091 New Highway
Melville, NY 11735
(877) 288-0454
21 Hammond Road
Centereach, NY 11720
(877) 288-0454
10. I Have To Rehearse. Okay, It's Just Me On The Drums, But I Don't Want The Cops To Come.
That's you, isn't it? It's me, too. As it turns out, it's also Michael McManus of the emerging L.I./BK band Gamblers. "My favorite thing about John's studio is having a place on Long Island to go bang on the drums and get some piece of mind in the middle of the night," says Michael. "It's also great during nine to five work hours because fewer people are there, and you can work on new ideas or have a really insightful conversation with John."
Michael is referring to John "The Cat" Gatto, the legendary guitarist of Long Island's own Good Rats. In what has to be considered a best-kept secret, John has been operating his 24/7-rehearsal space since 2006. He doesn't advertise. "I don't need to," he says. "Most of my rooms have been occupied for years. People don't give them up."
If you walk into John's place expecting a dive-y, rock 'n' roll hole in the wall, forget it. Everything in his place is immaculate: The rooms, the hallways, the bathrooms, the showcase room. There's no time or place for clichés in his world. John feels that up and coming bands are misled by the public perception of bands, the music industry and the infamous "rock and roll lifestyle." "When the Good Rats got together, we rehearsed every single day that we could. No exceptions. There is no substitute for it. You make time to have fun after that. When we got signed to Warner Brothers, we were ready."
Inside, John is available to everyone, giving freely of his perspective and experience. Outside, the grounds are clean and the neighbors have never complained. But the money isn't enough of a reason to do all of what he does. His heart is in all of it. "I take care of five stray cats. And one in the office." And in the winter? "We put out shelters."
Who wouldn't want to get monthly space in a special environment like this…how could one find out if there was a vacancy? "I'd probably reach out through social media; mention that there's space in North Amityville." Unless someone refers a band to you. "That's usually what happens."
By now, you're probably saying, "Thanks a lot, John Gatto, but where does that leave me? It's 3AM, and I want to get down to some music making." Simply put, there are studios that have space, but they are cautious. If you get your keywords in order and hit the right sites (a certain Craigslist, for example), you'll find that various studios advertise for their late night spaces entirely separately from their websites. The right studio will take on the right customer.
11. I Am Stranded At Sea. I am Monumentally Screwed.
Seatow provides 24/7 service out of many locations all around Long Island. A single, non-membership tow can cost $650. Memberships range from $119 to $179 per year, the latter is all inclusive.
1-800-4-SEATOW
12. My Electric Car Is Almost Out Of G….Um…Volts. Voltage, I Guess You'd Say.
Charge up at Tesla, 24/7.
Tesla
7 Aerial Way
Syosset, NY 11791
https://www.teslamotors.com/findus/location/service/syosset
Other Chargers, All Hours:
They also have an iPhone app. The mobile version of the website functions fairly well. 
13. Supermarkets!
We finally found a couple. Crucial!
Maharaja Farmers Market
265 S Broadway
Hicksville, NY 11801
516-822-6060
Apna Bazar
217 Bethpage Rd
Hicksville, NY 11753
516-931-2045
Two Indian markets, located a mile and a half from each other in Hicksville. Maharaja more closely resembles a regular type of market, while Apna has a kind of warehouse type of layout, with lots of good deals if you're buying in bulk. If you get inspired at 3AM and you need a 20lb bag of flour, you've got it. The deals on produce at both places are exceptional. Maharaja features an extensive offering of spices, and specialty butcher items such as Halal meats. If you're used to the regular supermarkets that have been on the Island for decades, you need to walk into either or both of these at some point to get some fresh ideas on what you could be eating on a regular basis.
Update! Walmart Neighborhood Market at 3335 Hempstead Tpke in Levittown is no longer 24/7. No idea why.
14. My Clothes Are Dirty And I Need To Play Arcade Games.
Laundry Kingdom Of Shirley
579 Montauk Hwy
Shirley, NY 11967
631-399-6980
Galaga, Ms Pac-Man, etc. Over 200 washers and dryers; huge facility. Big screen TV's, energy drinks that you don't need at that hour.  Two other locations, games not confirmed.
Kings Park Laundromat
141 Main St,
Kings Park, NY 11754
631-269-5086
Galaga, Ms Pac-Man, and UltraCade Multi-Game Video Arcade System, whose founder later was sentenced to jail time for fraud.
Also, there's a coin operated pony ride.
And I've seen a picture of a band playing there.
Mega Wash & Dry
1502 Deer Park Ave
North Babylon, NY 11703
631-254-0914
Galaga, Ms Pac-Man, Neo Geo, Tekken 5, Drift driving game.
Also, pinball. And a "check your weight" scale.
Good Humor ice cream vending machine.
All this, and free wifi.
One minute walk to 24/7 McDonalds.
____________
Long Island buzzes along all day and all night. We hope we've put you in touch with some possibilities.
This article and the accompanying main resource page will be regularly updated. We invite you to help them improve over time by adding your comments below.
My thanks to Paul Simoneschi and Shaun Daly for inspiring this piece.